SSL for eCommerce Hosting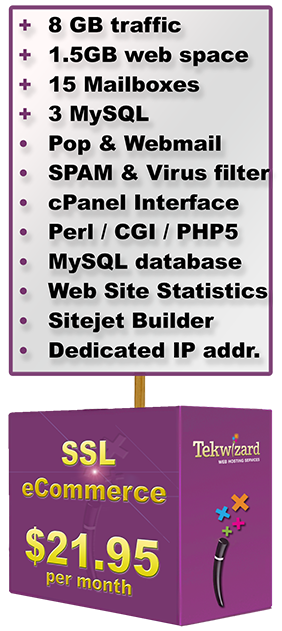 Build your own eCommerce website with a dedicated IP address - for secure SSL certificates guarding your site.
This hosting package includes 15 email addresses, 3 MySQL database and 3 ftp accounts.
Hosted on genuine Australian servers for the fastest possible access within Australia - ideal to maintain your shop with no delays.
You think that is difficult to set-up - NO! We have the self-installation system Fantastico installed on our hosting server. That means installing programs is a matter of minutes only, without having to upload any files - including popular eCommerce solutions like zen cart and more.
Included is web mail access and the latest SPAM and email filters. These filters are applied before the email is entering your mailbox so much less work for you to check your SPAM folders of your email programs.
Tekwizard Web Hosting uses the market leading cPanel control panel, giving you easy access to your email accounts, lets you forward mail, shows your web site statistics and more.
This hosting package is just $21.95 per month (incl. GST) and no set-up fees!
NOW 5GB BANDWIDTH PER MONTH!
Please note: this plan does not include a SSL certificate. Buy your SSL certificate here.